Engineering
The fascinating point about the broad field of technology is that it affects all areas of life and continues to develop. For us, what counts is to create innovative solutions based on technology that improve the quality of life for us all. We are enthusiastic about the "ingenium" (Latin origin of engineering) – the inventive thinking, the genius, the ingenuity – that creates innovation, but equally about the doing part of engineering.
What projects may we engineer for you?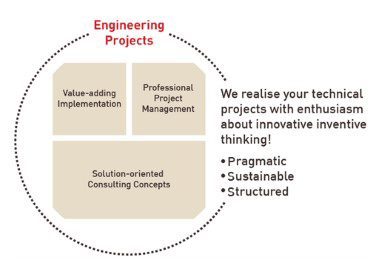 Projects
The complexity of the project environment in technology-based enterprises continues to grow. Thriving entrepreneurs accomplish the transformation of market pressure into market success by carefully balancing innovation and professional economic management.They succeed in continuously managing the development process to achieve transformable production methods and more efficient flows of value creation. Their flexible product cycles give them the vital scope of action in the market. They operate sustainably with all resources. It is they who adaptively respond to their customers' requirements and acquire a sustainable competitive position.
What challenges may
we help you tackle?
Our Misson
It is our mission to develop your scope of action with you – so your technical projects advance your company to success.
LEARN MORE
Careers
Do you share our enthusiasm for engineering? Interested in joining turn consulting?
LEARN MORE